As the programming field expands and schools include it in their academic curriculum in Nigeria, the demand for more laptops that facilitates the programming project efficiently rises.
After all, the need for a laptop also comes with the need for notebooks that can balance cost and performance.
It explains that getting a laptop on a budget does not imply poor quality but high quality at an affordable price.
Programmers need the best laptops available to avoid poor performance or battery life.
So rather than sticking to a desktop PC for your programming project, maybe because of the cost of living, and the state of the economy, cheap modern laptops are already made available to provide superb and powerful performance, convenience and budget-friendly.
Specifications for Programming Laptops
It is essential to note that Laptops for programming are not different from a standard laptops.
The difference is with features like RAM, processor, graphic card memory and storage.
Therefore, the primary criteria you should look out for in any laptop of interest for your programming include the following:
It should have a modern processor and a graphic card memory, which will significantly play a massive role in your laptop's speed.
A RAM of a reasonable amount, preferably 16GB. It is because some programming software requires a considerable amount of RAM. For example, Data analysis and JAVA.
SSD as internal storage for faster data retrieval.
Large screen with high resolution to see more codes on your screen without navigating up and down. Nothing less than 1080p.
Comfortable and responsive keyboard.
Strong battery life as programming requires high computing power.
Brands such as Lenovo, HP, Acer, Asus, Dell and others offer cheap laptops for programming in Nigeria.
It is also cheaper to go for a standard laptop without the criteria mentioned above and then upgrade the RAM to 16GB or, better still, get an external hard drive and then get a good battery with at least 6 hrs battery life on a single charge.
Smile because you won't go wrong with my curated list of the five (5) best laptops to let you do programming anywhere conveniently.
Best Laptops for Programming in Nigeria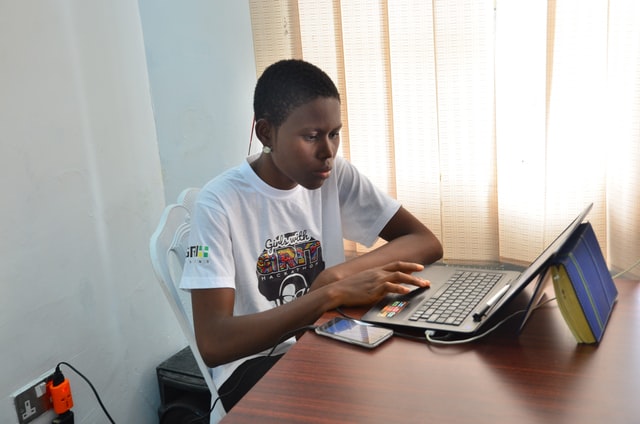 The following is the list of best laptops for programmers in Nigeria;
Asus VivoBook Pro 16X OLED
Acer Swift 3 SF316-51
Asus ROG Zephyrus G14
Lenovo ThinkPad X1 Carbon Gen 9
Lenovo Yoga 9i 14 (2022) – Best 2-in-1 design
Asus VivoBook Pro 16X OLED
Its resounding feature is the sufficient storage that allows you to multitask or run a few applications simultaneously and for intense programming.
Why go for it
Powerful performance
Excellent display
Strong battery life
Why avoid
Dull aesthetics
Unappealing 720p Webcam
Undependable fingerprint scanner
Bad port selection
Specifications
The vibrant and dark colour depth produces clear images. They are recommended for those suffering from eye strain.
CPU – Ryzen 9 5900HX, pretty fast for coding and other tasks.
RAM – 32GB and 1TB of PCIe NVMe M.2 SSD storage.
Acer Swift 3 SF316-51
Recommended for those on a tight budget, as it is a superb value.
Why go for it
Attractive 16-inch 1080p screen
Comfortable and responsive keyboard and touchpad
USB-C with charging and DisplayPort
Why avoid
Unimpressive Webcam, microphone, and speakers.
Intel processor falls behind AMD alternatives
Unreliable Battery life
Specifications
]Intel Core i7-11370H with four cores.
RAM – 16GB.
512GB SSD.
Comfortable and enjoyable keyboard.
Superb display.
Asus ROG Zephyrus G14
It is uniquely portable, stress-free and powerful. It can also perform snappy tasks.
Why go for it
Excellent CPU and GPU performance Unique AniMe Matrix
Has a webcam
Why avoid
Half permanent RAM
The keyboard backlight is impressive
Specifications
AMD Ryzen 9 6900HS processor,
DDR5 RAM – 32GB and 1TB of PCIe 4.0 SSD storage.
Lenovo ThinkPad X1 Carbon Gen 9
It is resounding for its good performance and superb keyboard.
Why go for it
Lightweight with rugged design
Display – Roomy 16:10
Stellar keyboard
Calm operation
Booming audio
Two Thunderbolt 4 ports
Why avoid
Specifications
Intel Core i7-1185G7 CPU.
RAM – 16GB and 512GB of PCIe NVMe M.2 SSD storage.
Lenovo Yoga 9i 14 (2022) – Best 2-in-1 design
This laptop is instead referred to as a versatile device because of its 2-in-1 design.
Why go for it
Long and strong battery life – 74 watt-hour
Beautiful audio output
Enjoyable keyboard
Why avoid
Too skinny stylus
Its touchpad is undersized
Specifications
RAM – 16GB and 1TB of SSD storage, Crystal clear OLED display,
12th-gen Intel Core i7 processor, four performance and eight efficiency cores.
Let me know in the comment box below if you have any questions or need further clarifications would love to hear from you.