A high-end performing laptop is a necessary electronic tech gadget for Engineering students.
Over the years, laptop computers have become a technological necessity for Engineering students to carry out resource-intensive programs like CAM, MATLAB, and CAD.
As an Engineering student, your laptop choice must match the computational coursework typical in your study area.
It will be a setback to your academics and gain practical experience if you have a laptop that cannot run basic engineering programs.
The powerful software used for Engineering is heavy, requiring more CPU, RAM, SSD space, and other hardware components.
Trust me. You wouldn't want to use a low-budget laptop that does not get any work done in the School of Engineering.
It would lead to you getting poor grades and staying behind your class in school work.
I remember a friend from school whose laptop crashed by running the AutoCAD program on his system.
There are hardware and software components you must use before purchasing your laptop.
In this post, I will walk you through the best laptop for Engineering students.
Most of the laptops listed on this page may not be budget-friendly, but they are the best and most reliable laptops for students in the Engineering discipline.
Let me know in the comment if you have any questions or need further clarifications. I would love to hear from you.
Laptop Requirments for Engineering Students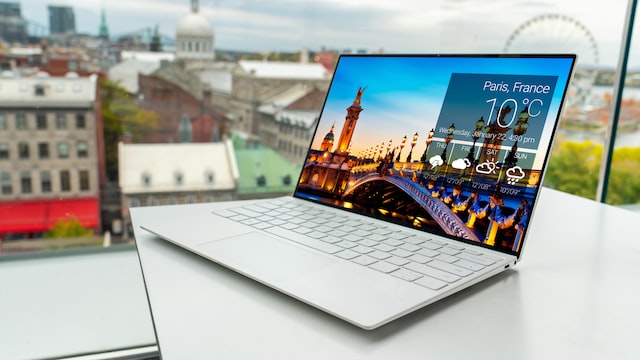 The basis for the laptop requirements for Engineering is their ability to process robust programs.
As I have highlighted above, the requirement for an Engineering student laptop is the capability to carry out heavy tasks.
A gaming laptop could conveniently stand in as an Engineering student laptop.
The following are the laptop requirements for Engineering students in school;
Processing Power
Storage Capacity
Maximum RAM
High-end Graphic Cards
Wireless/WiFi
Processing Power
Long Battery Life
Screen Size
Lightweight Frame
Processor
High Screen Resolution
Ample Accessory Ports
Webcam
Processing Power
Processing power is the most critical factor when buying a laptop as an Engineering student.
The processor is the brain of a laptop that determines the capacity and task a computer system can handle.
The minimum processing power for engineering student laptops is 2.0 GHz.
It would be best if you buy a laptop with good processing power to effortless rung programs like CAD, AutoCAD, Matlab, and SolidWorks.
A high processing power equates to a faster computer.
Storage Capacity
A computer's storage or memory unit is where programs and data are stored when they are currently in active use.
Laptops have two (2) types of storage memories;
Primary Storage
Secondary Storage
Primary storage is the computer Random Access Memory (RAM) and Read Only Memory (ROM).
Secondary storage capacities are SSD and Hard disk, which provides the physical storage capacities for a laptop.
As an engineering student, you would need a laptop with a minimum of 4GB RAM and 500GB internal storage.
SSD storage is the preferable secondary computer storage because it allows laptops to have a lightweight frame.
Long Battery Life
Laptops with long battery life are crucial requirements for student laptops.
As an engineering student, you may not have the opportunity to be close to a power outlet during the day while on campus.
It is why a laptop with a long battery life would save you the stress of trying to charge your computer while in the middle of school work.
The minimum battery requirement for an engineering student laptop is six (6) hours. Getting a laptop with eleven (11) hours of battery life is best.
Wireless/WiFi
The connectivity options and capabilities are crucial requirements when purchasing a laptop.
As a student, getting a computer system with a wide array of connectivity options like Bluetooth, WiFi, cable ports, and adapters is necessary.
The laptop you want to purchase must have Wireless/WiFi connectivity to connect to the internet.
Connectivity to the internet via WiFi is crucial for your academic work and research as a student in school.
Lightweight Frame
Lightweight frames are the new favorite specifications of laptops for study, research, and productivity.
Thanks to the cutting-edge technology from laptop makers, we now have slimmer and more durable laptops with long-lasting battery life.
As a student, you must get a laptop that is lightweight and you can quickly move around on campus.
Screen Size
The screen size of a laptop is a requirement for an engineering student.
As a student, you need a sizeable screen-sized laptop that can conveniently process powerful engineering software.
A laptop with a screen size of 15.6 inches is the recommended size for engineering students.
Best Laptop for Engineering Students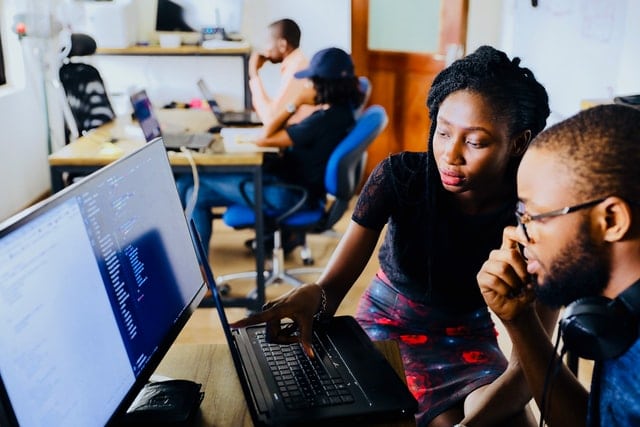 Here is the list of the best laptops for Engineering students;
| Laptop | Brand | Price |
| --- | --- | --- |
| Dell XPS 15 | Dell | $1,599 |
| Asus ROG Zephyrus G14 | ASUS | $1,015 |
| HP ENVY x360 | HP | $849.99 |
| DELL G5 15 | Dell | $1,390 |
| HP Pavilion x360 | HP | $789.99 |
| MacBook Pro 16-inch | Apple | $2,499 |
| HP ZBook 15 G3 | HP | $800 |
| DELL XPS 17 | Dell | $1,949 |
| Acer Predator Helios 300 | Acer | $1,279 |
| Google Pixelbook Go | Google | $580 |
| HP Spectre x360 | HP | $1,099 |
| Dell Vostro 5515 | Dell | $639 |
| Microsoft Surface Book 2 | Microsoft | $589 |
| Razer Blade 15 | Razer | $1,622.99 |
| HP OMEN 15t Gaming Laptop | HP | $1,539 |
| LG Gram 17 | LG | $1,496.99 |
| ThinkPad T14s Gen 3 Intel | Lenovo | $1,609 |
| MacBook Air (M2, 2022) | Apple | $1,199 |
| HP Elite x360 1040 G9 Notebook | HP | $2,949 |
| New Precision 3470 Workstation | Dell | $1,879 |
| ThinkPad X1 Carbon Gen 9 | Lenovo | $1,238 |
Dell XPS 15
Dell XPS 15 is the best laptop for engineering students tackling intensive computational coursework and day-to-day classes.
It is, in totality, a workhorse even with its stylish and slim design.
Specifications
Its unique specifications include:
CPU:12th Generation Intel Core
i5-12500H processor
Operating system: Windows 11 Home, English
Video Card: Intel UHD Graphics GPU
32 GB DDR5 RAM.
Storage capacity – a 512 Gb SSD
1 TB and 2 TB SSD models.
Display: 15.6-inch FHD+ non-touch, 3.5K OLED, anti-glare InfinityEdge display with a 500-nit peak brightness and black interior with a platinum silver exterior.
Backlit keyboard with a fingerprint reader.
Value to gain:
Outstanding performance
Superior design
High-quality display
Good backlit keyboard
Disadvantage
Webcam can disappoint
Battery life is not the strong
Price = $1,449
Asus ROG Zephyrus G14
The Asus ROG Zephyrus G14 is a powerful laptop that offers you value for your money with high productivity.
It is the best laptop for engineering students because of its multipurpose use and battery life with ten hours of usage on a single charge. It serves as a gaming laptop for your recess during engineering projects.
Its storage capacity grants you the luxury of loading heavy programs or games with a top-notch display.
Specifications
Its unique features include:
14-inch Full HD display
120 Hz refresh rate
2.9 GHz AMD Ryzen 7 8-Core Processor 8 GB RAM
Display: NVIDIA GeForce GTX 1650 GPU
Supports WiFi 6 802.11ax, giving room for an excellent network signal
Operating System: Windows 10 Home
Video Card: GeForce RTX™ 2060 GPU
Bluetooth 5.0
One HDMI port, two USB Type-A ports, one USB Type-C port, one Displayport and G-Sync, and one USB Type-C 3.2.
One audio jack.
Value to gain:
Powerful performance, modern look, and portable design
Excellent display quality
120 Hz refresh rate
Disadvantages
● No webcam
● Keyboard's backlight can give you trouble
● Fans can get loud
Price: $1,015
MacBook Pro 16-inch (2021)
As an engineering student with loads of work to handle every day, Apple has provided its 16-inch Macbook Pro to make life and multitasking easier and smooth for you.
It is a selling point for laptops with excellent quick performance and incredible battery life. Its display is top-notch.
Specifications
Its unique features:
Display: 16.2-inch Liquid Retina XDR display with ProMotion and True Tone technology.
Processor: M1 Pro
Operating System: macOS
Video Card: Radeon Pro 5500M or 5600M
120 Hz refresh rate
Apple's new M1 Pro chip with a 10-core CPU.
16-core Neural Engine
16-core GPU
16 GB of unified memory (you also can upgrade to 32 GB)
512 GB, 1 TB, 2 TB, 4 TB, and 8 TB SSD storage
FaceTime HD camera, now 1080p fairly more than the older 720p
High-fidelity six-speaker sound system with force-canceling woofers
Supports Bluetooth 5.0 wireless technology and 802.11ax WiFi 6
Three Thunderbolt 4 (USB-C) ports, one HDMI port, and one SDXC card slot
Values to gain
High-quality display
Great performance
12 hours of battery life on a single charge
More ports than previous models
Upgraded webcam
Touch ID sensor
Disadvantages
Quite expensive
No more touch bar
Price: $2,499
Google Pixelbook Go
Google Pixelbook Go is one of the budget-friendly options for engineering students that are also productive in handling their various coursework at a reasonable speed.
It's also one laptop that grants you the luxury of moving around your daily classes freely because of its slim and lightweight.
Without an external mouse, you can easily navigate through it because of its 13.3 HD touchscreen display.
Specifications
Value to gain and features:
Affordable and budget friendly
Touchscreen display
Excellent keyboard with hush keys and spacious touchpad
Built-in anti-virus software and Titan C security chip
Dual stereo speakers for quality audio
8th Gen Intel Core Processor
Operating System: Fast Chrome OS for the long run.
Video Card: Intel UHD 615 GPU
Disadvantages
Its 16:9 screen is not most people's choice
It uses ports that are not USB-C
Internet connection is required for most tasks
Price: $580
Razer Blade 15
The Razer Blade 15 is designed for engineering students with a flexible budget, is suitable for gaming, and can serve as a full-time engineer. It is because of its superior performance.
It ensures a smooth flow of content when working on heavy programs.
Specifications
Unique features:
10th Gen Intel Core i7-10750H processor expandable 16GB RAM and 512 GB of SSD stage.
NVIDIA GeForce RTX 2060 GPU
15.6-inch full HD display.
Windows 10 Home
144 Hz refresh rate
Video Card: NVIDIA GeForce RTX 2060
Supports WiFi 6 and Bluetooth. Thunderbolt 3 port, USB Type-C, Type-A ports, and an HDMI port.
The laptop's keyboard isn't like the others on this list because you can customize the color of its backlight.
Values to gain:
Longevity beta powerful processor
Excellent GPU
Slim and durable design
WiFi 6 support
Disadvantages
Fans make noise
Poor battery life (6-hour battery life)
Shallow Keyboard
Price: $1,622.99
Apple MacBook Air (M2, 2022)
The Apple MacBook Air (M2, 2022) from Apple is one of the best choices for laptops with excellent performance, portable and gorgeous displays needed by engineering students.
In the competitive market for lightweight laptops, count Apple MacBook Air (M2, 2022), even though it might not pack a powerful AI-assisted GPU.
Its value does not stop at being a light laptop that offers powerful and incredible performance, with a long battery life of over 11 hours on a single charge.
It also includes its improved keyboard that gives you the luxury of working away for hours and guaranteed fast performance with superb graphics.
These promises are made available by its unique features.
Specifications
Its Unique features include:
CPU: Apple M2
Graphics: Integrated 8 – 16-core GPU
RAM: 8GB – 16GB
Display: 13.6-inch 2,560 x 1,664 LED-backlit display with IPS technology
Storage Capacity: 256GB – 2TB SSD
Memory: 8GB – 24GB
Operating System: macOS
Video Card: Apple M2
Value to gain
11-hour battery life on a single charge
Powerful M2 chip
Thin and Light for easy carrying
Silent to use
Disadvantages
Hardware refresh moderately than new design
More Ports
Price: $1,199
With these curated lists, get ready to fall in love with your discipline and maximize your output.