Logistics firms arrange, store, and transport products and services from one location or person to another. It might be a great distance (international) or a short distance (local).
Most people prefer to use the terms "delivery business" or "courier services" instead of logistics.
Because they provide transit between e-commerce businesses and customers, logistics services will continue to be one of Nigeria's most profitable companies.
When you buy something from an online e-commerce store, the vendor on that platform delivers the item to you via independent logistics services.
Since it is an independent logistics firm, it is available to anybody who wants to run a logistics company.
As technology advances, many entrepreneurs are investing extensively in e-commerce. These enterprises, on the other hand, require a logistics business that is recognized and reliable to work with, as ineffective logistics can ruin an e-commerce firm.
To be successful in the logistics industry, you must be well-versed in all aspects of the industry and provide excellent service.
Therefore, in this article, I have outlined steps to start and run a logistics company in Nigeria successfully.
If you follow all the steps outlined in this article, your logistics business will be successful. Read on
Steps to Starting a Logistics Company in Nigeria
Here are the steps to start a successful logistics company in Nigeria;
Choose Your Method of Operation
Understanding the Logistics Industry
Create A Business Plan
Choose A Location and Research Your Competitors
Funding and Capital
Set Up a Website for Your Logistics Business
Hire Staff for Your Logistics Business
Promote Your Logistics Company
Create a Brand
Insurance
Management
1. Choose Your Method of Operation
Start by answering the following questions:
Do you want to start as an agent, a carrier, or a contractor?
Would you like to run your business on bicycles, buses, or trucks?
Will you be delivering interstate or intrastate?
Will you concentrate your efforts on a specific industry?
Before you begin, you must answer all of these questions. That is practically the first step in establishing a logistics company.
As a first step, it is advised that you be precise about the type of item to convey, either fragile or infrangible.
There are many different types of logistics. Identifying your mode of operation can assist you in estimating the capital you'll need to get started and help you focus.
You can start as an agent or contractor if you lack the necessary funds to purchase buses or bikes as a regular logistics firm.
As an agent, you will act as a liaison between an established logistics company and the business owner that needs their services. You will be paid a negotiated commission for any business you bring to the logistics firm.
2. Understanding the Logistics Industry
A logistics company demands the adoption of skillsets. The training that follows is mandatory and essential. Remember that these differ based on whether you seek global or local transport or both.
Transportation Management Systems (TMS)
It entails overseeing and tracking many parts, such as vehicle maintenance, storage, communications, freight handling, etc.
Management and Inventory Operations
Inventory management is an essential aspect of the transportation and logistics industry.
Warehouse management collaborates with inventory management. You must understand how products flow through your organization.
Regulations and Laws Governing Transportation
Your transport and logistics company may provide both domestic and global services. Rules governing interstate trade, as well as international shipments, should be covered in your training. 
3. Create A Business Plan
A business plan is a detailed document that outlines your company's aims and objectives and how you expect to achieve them.
Following the identification of your method of operation, it is safe and advisable to document your step-by-step preparations on paper.
The following information should be included in your business plan:
A detailed description of your logistics company
Mission/vision statement
Business strategy
Market Research
SWOT analysis
Your Team
A marketing plan that will make you stand out.
Dealing with the competition
An operational plan
Financial projections as time goes on
4. Choose A Location and Research Your Competitors
A successful logistics firm must select the best base of operations. Ask questions like:
How close to your consumers are you?
The closeness of your target market is an essential factor to consider.
Are you planning to rent the property or buy it?
To store and carry things, look for taller ceilings and smoother flooring.
Is there a sufficient number of warehouse rollup doors? 
Is there enough room outdoors for vehicles?
Highways and roads, as well as traffic flow, Other choices, such as highway access and local traffic density, must be considered.
A well-located logistics company is close to ports, railway terminals, and airports for easy pickups.
To up your game, you need to observe and understand what other logistics companies are doing.
It can assist you in finding out what customers expect, giving your company a competitive advantage.
5. Funding and Capital
Money will be needed to purchase the necessary equipment and pay your employees.
The amount of capital required will be determined by your level of operations. You can start a modest logistics firm with as little as ₦500,000.
The business plan will assist you in applying for commercial bank loans and other types of company incentives.
With a proper business plan, you may also attract investors who are interested in your business concept.
Purchasing Business Equipment
Once you get enough money, purchasing equipment for your business is the next step that should be considered. The essential equipment needed is:
a. Vehicle
A vehicle or a bus can be purchased, but they are expensive. You may begin by renting a car or getting used vehicles to minimize your startup costs.
It would be best to consider your business environment when purchasing a vehicle.
In a congested region, a motorcycle is preferable for navigating traffic.
A dispatch box may be added to the back of the motorcycle to enable the rider to take bulk items from the office while making deliveries.
Your company's cars should be branded so they can be identified easily.
b. A Laptop or A Smartphone.
It is necessary to take orders, communicate with customers, and maintain accurate paperwork.
Because of their ability to execute several activities without slowing down or shutting down other applications, computers make it simple to track your bikes in real time.
c. Office Space
Customers may want to visit your place of business, so you'll need office space.
The facility should be large enough to accommodate workers and store products to be delivered.
Remember that your workspace will also be where you will keep your corporate vehicles.
Having a head office shows your clients that you are serious about business.
6. Set Up a Website for Your Logistics Business
Your website will act as a bridge between you and your customers. If someone wants to learn more about your company, they can go to your website, receive the information they need, and contact you straight from there. 
You should establish a website that allows you to accept orders and track the delivery of things.
The website's main page should be colourful, appealing, and simple to use and navigate. Customers might be encouraged to provide reviews on a website, which helps with exposure.
Let me know if you need assistance creating a website for your company.
7. Register Your Business with CAC
People have a higher level of confidence in registered firms. Choose a business name and obtain a permit to operate.
It is critical to assist your business's growth while avoiding unneeded shame and inconvenience.
The firm must be registered with Corporate Affairs Commission (CAC). You can register as a sole proprietorship or as a limited-liability corporation.
The business certificate you are given serves as proof of registration.
For company registration, to begin with, go to CAC's site and do a name availability search. After your name has been approved, you may start the registration procedure.
Due to the formalities required, many ambitious entrepreneurs find it challenging to complete the registration. That is why it is recommended that you employ a lawyer to assist you with the registration. 
Apart from registering with CAC, you will need to secure other licenses and permissions from the government.
Do proper research about them and ensure that you obtain them, so your vehicles are not hounded on the road.
8. Hire Staff for Your Logistics Business
A driver or rider is essential in the logistics industry. As a result, it would be great if you were cautious in selecting and developing them to your standards.
Preferably, it would be best to begin as your driver/rider to become acquainted with the areas you will be operating and the company system.
As a result, you will clearly understand how the firm works.
Depending on the scale on which you conduct business, you may not be able to be the sole driver or even a driver at all.
However, knowing and understanding how the process works is advantageous.
You can build successful tactics and effectively communicate with your employers when you understand how things function.
Anybody you recruit must learn the company's core values, act in a way that protects and promotes your brand, communicate appropriately with clients, and so on.
The further you grow, the more employees you can hire. 
Aside from drivers, you will also require additional personnel to assist consumers that visit your offices.
You must teach, retrain, and continue to train your drivers and employees since their actions and inactions affect the success of the firm, particularly the drivers.
Staff for Logistic Business
The following personnel are needed for your logistics company, as you can't do all the work alone.
A Driver or A Motorcyclist
When selecting a driver for your logistics firm, you must exercise extreme caution.
You must be entirely sure that the individual is capable of driving.
You may need to train him yourself. To prevent complications, the individual must also have a driver's license.
A Store Supervisor
A store supervisor ensures that the delivered products are kept intact to avoid harm.
A Computer and Phone Operator
A computer and phone operator receive orders and communicates with clients.
If you carefully follow these steps, there is a high chance of having the best employees who will take your business to the next level.
9. Promote Your Logistics Company
No one will know if you don't advertise your company.
To promote your logistics company online and offline, even as you contact proprietors of e-commerce businesses.
Thankfully, with the advancement of the internet, it is now simple to promote your business.
Popular methods of business publicity and marketing channels include:
Advertising on social media (Instagram ads, Twitter ads, Facebook ads, linked in, Snapchat ads)
People's recommendations
Referral
Radio and television adverts
Publications in newspapers 
Collaborations/Partnerships 
Google Ads
You can contact me for the promotion of your business.
10. Create a Brand
It is critical that potential consumers, or customers in general, have the means to distinguish your logistics company from others.
Branding provides you with a significant advantage over your competition by creating a permanent reason for customers to keep sending orders your way.
You can stand out and surpass competitors in your niche with your uniqueness. 
These are the elements to consider while developing a solid business brand.
Honesty
Outstanding client service.
Quick delivery
Online visibility (an app or web page or both) 
11. Insurance
If you genuinely want to have a logistic business where you can be at ease, even if you hear some items were burned, you must have your firm fully insured by a reputable insurance provider.
You must ensure your logistics company avoids loss due to delivery theft or damage. As a result, you should consider the following insurance coverage.
Property Insurance 
It covers property damage caused by events such as floods.
General Liability Insurance 
Personal harm is one of the topics covered.
Business Vehicle Insurance
All business cars must have this feature. Accidents involving commercial vehicles are covered. 
Insurance is not new in the Nigerian business world, but new entrepreneurs frequently disregard it.
12. Management
Management is essential to the survival of any organization, and for your company to thrive, it must be well-managed.
It doesn't matter how many employees you have; you must master management skills to get the most out of them. Make prudent decisions to ensure your business thrives in all conditions.
To beat the competition, you must have a unique selling point.
Competition in the logistics industry has always been a source of concern for new startups, but developing a unique selling point is critical to staying ahead of the competition.
Your unique selling point sets you apart from the competition and aids in the growth of your logistics company.
Here are the best ideas for unique selling points in business.
Send SMS messages to your customers on their birthdays or at the start of a new month.
Delivery should be speedy.
Staff should be polite and kind.
Provide little gifts at events like Christmas, New Year, etc.
Money-back guarantee, especially in the case of damage
Logistics Business Difficulties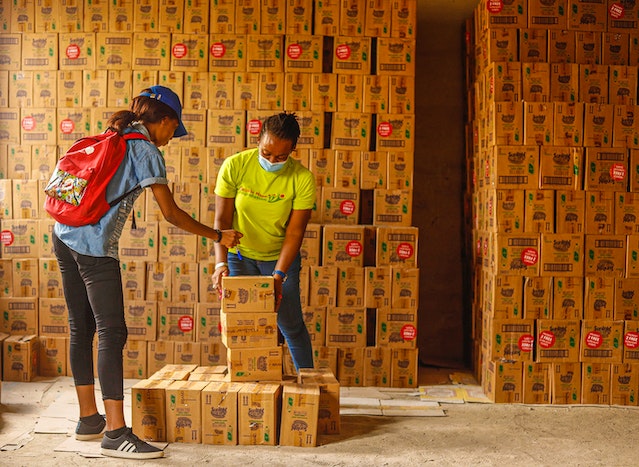 Every business has difficulties, and a logistics company is not an exception.
Challenges will undoubtedly arise, but it is critical to understand how to overcome them. It is how the company expands.
Below are some challenges that you may encounter in the course of running a logistics business.
The consumer may change their mind about purchasing an item, which can frustrate both the driver and the firm, resulting in a loss of fuel and person-hours.
Product Damage: The consumer may be damaged in transit and rejected.
Customers may be slow to pick up the phone to ask for instructions.
The Traffic: this might result in a delay in the delivery of products.
Customers may refuse to collect products if they believe they are damaged.
Reasons to Launch Your Own Logistics Business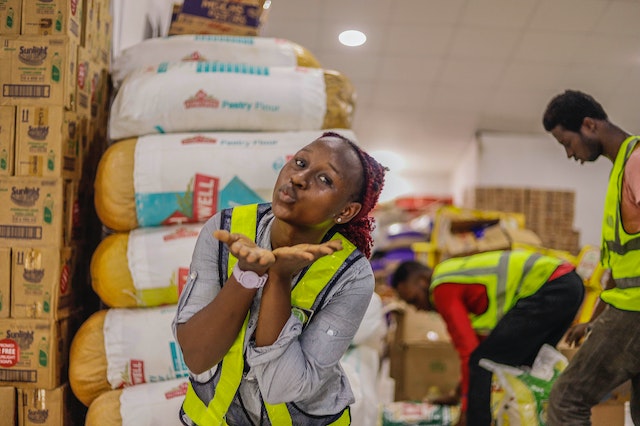 There are several compelling reasons for establishing a transportation firm. Here are some of the reasons why you should think about starting this new business.
It Is Adaptable
They Supply Products
Customer Preferences
Cost Savings on Transportation
There Is Room for Improvement
i. It Is Adaptable
Various people are employed, like accountants, drivers, and warehouse workers. ItIt'something that even a married couple can achieve.
ii. They Supply Products
These logistics companies play a vital role in supply chain management.
iii. Customer Preferences
People anticipate that things will be delivered more quickly. Good logistics are an essential aspect of meeting these rising demands.
iv. Cost Savings on Transportation
A logistics company saves clients money on transportation. It increases the availability of your items.
v. There Is Room for Improvement
This occupation is linked to global supply systems. These can be scaled up or down.
Conclusion 
Like in every other business, you must be determined and consistent before succeeding.
The logistics business is very profitable in Nigeria and can earn you thousands of Naira monthly if done rightly.
I believe that after reading this post, you can start your own logistics company and succeed.
Do you already own a logistics company? Or are you planning on starting yours?
We can't wait to read your comments.
---