In this post, I will show you how you can register for your permanent voter's card (PVC) online in 2021.
The Independent National Electoral Commission (INEC) continuous voters card registration begins on Monday, 28 June 2021.
The Continuous Voter's Card (CVR) registration is on the INEC registration online portal. The registration is preliminary to the physical registration process.
It means that you will first of all register online. You will then go to the polling unit to complete the registration process.
The online registration process makes the process of getting your PVC easy.
You will visit the INEC office in your LGA with your online printout for biometric capture.
You will get a temporary voters card after your biometric capture. The permanent Voter's card will be available at a later date.
Let me know in the comment box below if you encounter any problem or have any question.
Qualification for INEC Voters Card Registration
Here is the category of Nigerians that can register online for the INEC voters card;
Nigerians above 18 years and above who have never registered for a voter's card
Registered voters with accreditation issues
Registered voters seeking transfer
Registered voters with defaced, damaged or lost permanent voters card
Registered voters who wish to correct their information
Procedures for INEC Online Voters Card Registration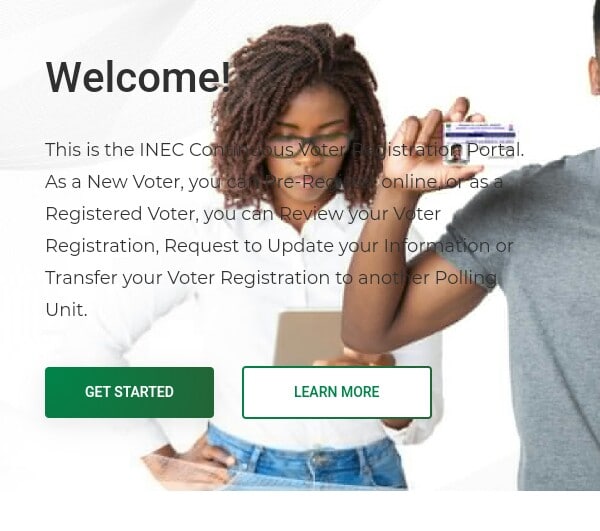 Here are the procedures to register for the INEC voters card registration;
Open Google Chrome browser on your phone
Visit the INEC www.inecnigeria.org Portal
Click on Get Started
Select category of registration
Sign up using Google or create a new account
Verify your email by clicking on the link sent to your mailbox
Log in to your account after verification
Select category of registration e.g New Pre-registration
Click Yes to accept that all your information is authentic
Enter your correct information in the fields
Click on Save & Continue
INEC Polling Unit
Here is the procedure on how to check your polling unit before you register online for the CVR;
Open Google Chrome browser on your phone
Visit the INEC Polling Units Portal
Click on the drop-down menu
Select your State
Select your Local Government of Origin (LGA)
Select your Ward
Click on the green button "Click to search"
View the result of the polling centres in your ward
It is necessary to know the polling centre in your Ward before registering online.
INEC Upload Passport Procedure
Instructions
You are required to upload two front-facing photographs of yourself.

Photo 1: In the first photo, ensure your face is clear and your expression is neutral (no smiling).

Photo 2:In the second photo, ensure your face is clear and you are smiling.
Important Guidelines
Ensure that you follow the guidelines below.
The photo must have plain light background;
The face must be well lit;
It should show a close up of the head and partial shoulders;
The image should be straight looking, centered with the right, expected expressions;
Face should be in sharp focus and clear;
The face from forehead edge to bottom of chin should be 70 to 80% of the photo or one inch height;
The eyes must be open and no hair obscuring the face;
Prescription glasses if worn should be clear and thin framed and should not have flash reflection or obscure the eyes;
Head coverings, hair, head-dress or facial ornaments should not obscure the face;
There must be no other people or objects in the photo;
Applicants are advised not to take photos with any of the defects listed above.
Ask me any questions about the registration process in the comment box below.
See also