Welcome to this tutorial on how to create your UNN email address and get your UNN Wifi password. First of all, I want to congratulate you once again on your admission to the University of Nigeria, Nsukka.
The UNN official email address is a designated email for staff and students in the University. It is your student email to be used for official purposes. As a fresher, you will get the school email from the UNN ICT department.
UNN mailing address looks like this – [email protected]
Table of Contents
UNN Email Address
You must have paid your acceptance and school fees.
Completion of first-year clearance is required.
Successful registration at MIS.
How to Get UNN Email Address
The first step is to complete your registration at the MIS department. MIS is at the Centre for Distance & e-Learning (CDeL) building.
Note that registration is according to your faculty. It means a day of the week for each faculty. Your class representative would update you on this information.
Go for the registration with your school fees receipt. Your photo and biometric details will get captured at the MIS building.
During my first year, after my registration at the MIS. I went straight to the ICT where I got my school email address. It was possible because I finished my enrollment in record time.
However, the ICT mandates students to send a request to the UNN email portal.
Read Also: How to Create UNN Blog
How to Request for UNN Official Email Address
Request for student email should be to [email protected]
Your email must contain the following details.
Name
Registration Number
Department
Type of study
See the example of the email below.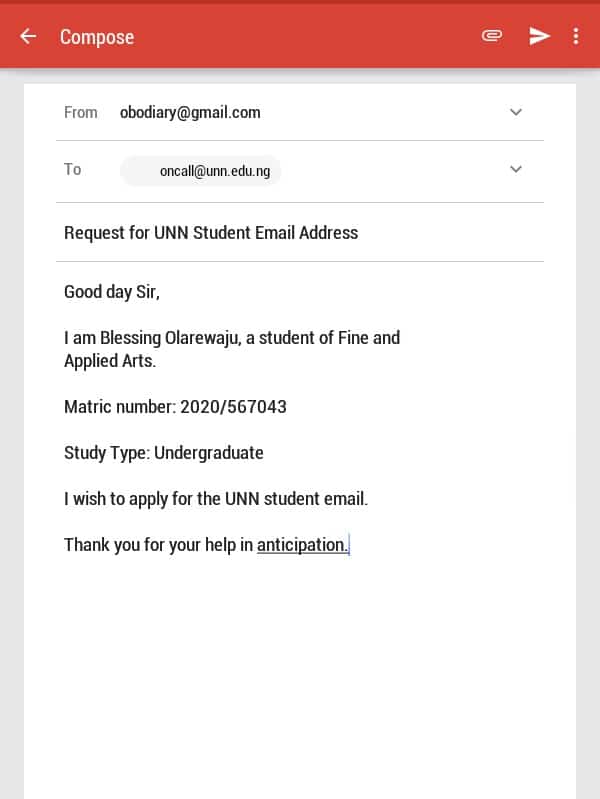 Good day Sir,

I am Blessing Olarewaju, a student of Fine and Applied Arts.

Matric number: 2020/567043

Study Type: Undergraduate

I wish to apply for the UNN student email.

Thank you for your help in anticipation.
Replace your name and matric number in the sample above.
You would receive a response from the ICT after 48 hours. But if you do not get a reply, visit the University ICT to complain.
What Next?
After you receive your email address from the ICT, go to UNN email login. Visit UNN Nsukka net.
Click on "UNN Mail" at the top of your screen.
Enter your full email address and password.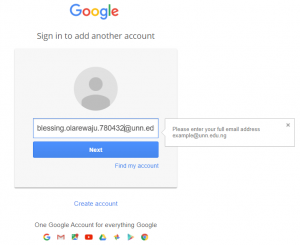 Congratulation, you have created your official email address.
UNN WiFi Password
Every student at UNN should have a wifi password. Though, not mandatory. I recommend that you get the password so that you can access the internet from any location on campus.
Note that UNN Lionet Hotspot is not free of charge. You pay for the internet service in your school fees.
How to Get UNN WiFi Password
Using your student email, send a mail to [email protected]
Email must contain your Name, registration number, department and study type.
See the image below to learn how to send the mail.
Good day Sir,

I am Blessing Olarewaju, a student of Medical Laboratory Sciences.

Matric number: 2020/567043

Study Type: Undergraduate

I wish to apply for student Wi-Fi password.

Thank you for your help in anticipation    
How to Get UNEC WiFi Password
The procedure to get your Lionet wifi password in UNEC is quite different from UNN. You do not have to send an email to the University of Nigeria Nsukka ICT.
For UNEC students, follow the procedure below.
Visit the old ICT building with your school fees receipt.
The old ICT building is beside Access Bank.
Do not go to the ICT building in front of the Medical Center.
Inside the building, approach the ICT staff.
State that you are a new student in UNEC. You want to create your wifi password.
I would love to hear from you in the comment box.
If you encounter any problems or have any questions, do let me know.
Share this post with your coursemate on WhatsApp using the button below.
You May Also Like
Walk of Shame: My Most Embarrassing Experience at University of Nigeria
Tales of the Den
Welcome to the Den: A tip of the Iceberg for Freshman
First Year Guide: Hostel and Off-Campus Accommodation
How to Get UNIZIK Email Address and Password
UNN Hostel Accommodation
UNN Change of Degree / Course Application Form 
UNIZIK Post UTME & Direct Entry Screening Exercise