You can defer your admission to Nigerian universities and other tertiary institutions.
Deferment of admission is the process of stepping down or revoking your studentship for one (1) or more academic sessions.
To defer admission means to initiate the application to not resume the academic session for a valid reason.
You can defer admission for one (1) to twenty (20) years.
All Nigerian universities allow applications for deferment of admission by undergraduate and postgraduate students.
Newly admitted students with their JAMB admission letters can defer their admission after completing their first-year clearance.
In this post, I will walk you through the procedures for deferment of your admission to UNN, UNILAG, UNICAL, OAU, UI, ABU Zaria, and other schools.
You can ask me any questions or make further inquiries using the comment box at the end of this post. I will love to hear from you.
Also, you will be interested in reading how to graduate with a first class.
Good Reasons to Defer Admission
Deferring your admission is a good idea if you have a valid reason why you cannot resume the academic session.
The reasons will be in your deferred admission letter, required for approval by your school registrar and admission office.
Here are a few valid reasons for the deferment of admission;
Health Challenge
Financial Crisis
Pregnancy
Lack of Academic Sponsor
Employment
Health Challenge
An ill-health condition is a common reason why students defer their admission.
The rigours of tertiary education require sound health for students. It is the only way you can survive academic stress.
Students with poor health conditions must defer their admission till they get recovery.
Financial Crisis
Financial challenges for students are the inability to pay tuition fees, accommodation, and meet up with other expenses.
You must apply for deferment if you cannot pay for your education.
This period will allow you to pool resources to cater to your education.
Pregnancy
The event of pregnancy is a valid reason to defer your admission to your school.
It is optional because you can continue with school with your pregnancy.
But students who do not want to combine child-bearing with schooling can defer their admission.
Lack of Academic Sponsor
The lack of an academic sponsor is a valid reason to suspend your academics.
An academic sponsor is an individual that takes care of your financial obligations in school.
Your sponsor can be your parents, family members, etc.
Employment
Employment is a valid reason to put off your resumption for school.
Students who get employment during their academic programme can postpone their resumption.
Requirements to Defer Admission
Here are the documents for deferring your admission;
JAMB Admission Letter
Local Government Area (LGA) Certificate
Birth Certificate
School Fees Payment Receipt
O'level Result (WAEC, NECO & NABTEB)
Passport Photograph
Student Biodata Form
Deferment of Admission Form
A deferment of admission form is a document you will get at your school admission or registrar's office for the application.
You must fill out and submit this form to approve your admission postponement.
It is necessary to get your school's official stamp on this form to indicate approval of your deferment.
Deferment Fee
A deferment fee is an amount you pay for the application process.
The money you will pay depends on your school. Some schools require that you generate the payment invoice on your school portal.
There are two payment methods;
Online Payment
Bank Deposit
How to Defer Admission
Here are the processes for deferment of admission;
Pay your acceptance fee
Generate school fees invoice
Pay your school fees for the academic session
Complete your first-year clearance
Visit your head of department (HOD) office
Inform your HOD you want to defer your admission
Get the deferment application form from your faculty officer
Fill out the form
Write your deferment of admission letter
Submit the deferment form and letter to your school registrar, faculty and department office.
Wait for approval from your school admission office
Defer Admission Letter Sample
Here is a sample of how you can write a letter to defer university admission;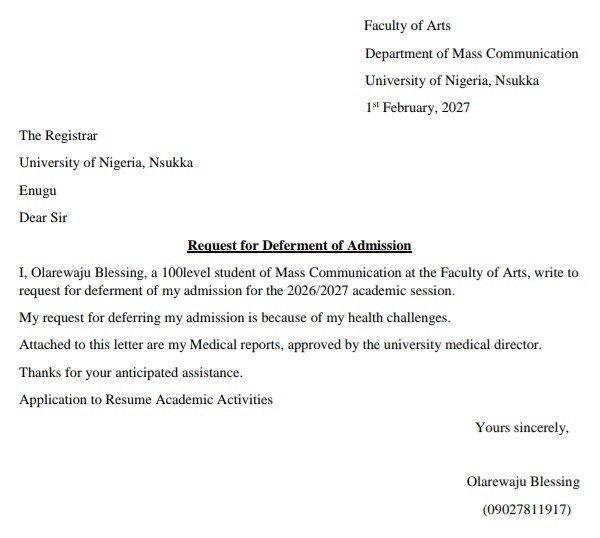 I, Olarewaju Blessing, a 100level student of Mass Communication at the Faculty of Arts, write to request for deferment of my admission for the 2026/2027 academic session.

My request for deferring my admission is because of my health challenges.

Attached to this letter are my Medical reports, approved by the university medical director.

Thanks for your anticipated assistance.
Application to Resume Academic Activities
You can resume school after deferring your admission by writing to your school.
In the letter, you will request to resume academic activities.
The letter will be reviewed and approved by your school registrar.
Frequently Asked Questions
What does it mean to defer admission in a Nigerian university or polytechnic?
To defer admission means to postpone or delay your acceptance of a university or polytechnic offer of admission to a later academic session.
How do I apply for deferment of admission in Nigeria?
The process for applying for deferment of admission varies across institutions. Still, generally, you will need to write an application letter to the institution's admission office stating your reasons for deferring and the academic session you intend to defer to. Some institutions may require additional documentation or have a specific procedure for deferment.
Can I defer admission for any reason?
No, not all reasons for deferment may be accepted by an institution. Some common acceptable reasons include health challenges, financial constraints, family issues, and personal development opportunities.
Can I defer admission after resumption?
It is usually impossible to defer admission after the resumption as the academic session would have already commenced. Institutions usually have a deadline for deferment of admission before the commencement of the academic session.
Do I have to pay any fees for deferment of admission?
Some institutions may require payment of a deferment fee or part of the school fees for the deferred academic session. It is advisable to check with the institution's admission office for details on any fees or charges.
Can I defer admission multiple times?
Institutions have different policies on multiple deferments, and it is advisable to check with the institution's admission office for their policy. Some institutions may allow only one deferment, while others may allow multiple deferments with conditions.
---
Let me know if you have any questions about deferring your admission. I will answer your questions as soon as possible.
You can watch my videos on the Studentship YouTube Channel by clicking here.
Do well to join the Studentship Facebook Group to get instant school updates.