One of the UK's most in-demand jobs is nursing due to the increased demand for health workers in the country.
There are diverse opportunities available for anyone seeking to travel to the UK to pursue a nursing career.
If you desire to work as a nurse in the UK from Nigeria, you may find the whole process challenging and demanding, especially if you have no work experience.
But, it would be best if you didn't get discouraged as in this article, we would be showing you how you can work in the UK from Nigeria as a nurse and other helpful information.
Let me know in the comment if you have any questions or need further clarification.
Nursing in the UK
There are several reasons you should work in the UK as a registered nurse, and some of them are highlighted below:
High Employment Rate
Good Income
Flexibility
Growth and Development
High Employment Rate
As earlier noted, nursing is a trendy job in the UK, and the National Health Service (NHS) requires more nurses every year to cater to the country's health needs.
Since this career will always be in demand, you don't have to worry about looking for a job as long as you have the right qualifications.
Once you are employed, you will also enjoy complete job security.
Good Income
You can be a nurse in the UK and have a stable income to cover your financial needs.
Your income, however, depends on your qualifications, skills, and job description.
Interestingly, the average salary of a registered nurse in the UK is about £25,000, and that's a lot of money for you, depending on your lifestyle.
Flexibility
Nursing is not a static profession. If it were, many people would have opted out a long time ago as they wouldn't be able to bear the monotonous routine for a long.
Hence, as a nurse, you can choose to specialize in any field that catches your fancy as long as you have the qualifications.
For instance, you can choose to be a theatre nurse, midwife nurse, or psychiatric nurse, among others!
Aside from this, your work schedule is flexible as you can choose to work from 9-5 on the night or rotational shifts.
Growth and Development
The NHS provides opportunities for nurses to learn and develop themselves in line with the profession.
You can plan and pursue your career goals, and you also have access to a personal development review.
You can get hold of excellent courses, gain more experience, etc., that would positively impact your career.
Application Guide for a Nursing Job in the UK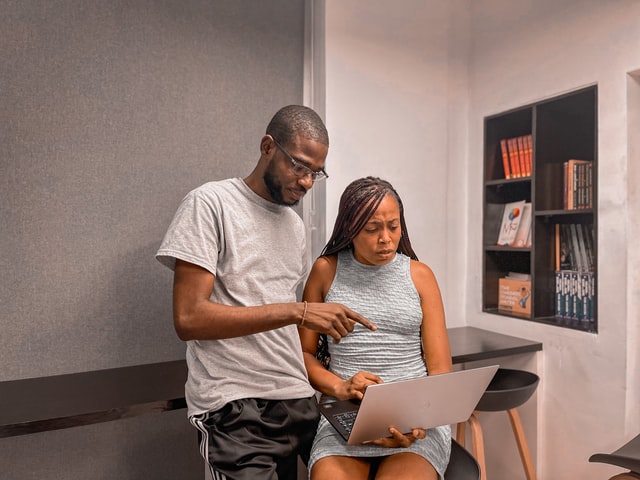 Before you can work in the UK as a nurse from Nigeria, there are several steps you would need to take. These steps include:
Get Your Passport Ready
Take the English Proficiency Test
Register With the NMC
Pay the Evaluation Fee
Verify Your Details With the NMCN
Take the CBT Exam
Upload Your Documents on the NMC Website
Pay the NMC Registration Fee
Apply for a Nursing Job
Get Your UK Work Visa
Take the OSCE Exam
Get Your Passport Ready
If you have yet to get your passport, you should apply at the immigration office or their website.
Depending on several factors peculiar to your situation, your passport would take weeks to process.
Take the English Proficiency Test
English is the UK's official language, so you must prove that you understand the language well.
Two types of language tests are accepted by the Nursing and Midwifery Council (NMC):
Occupational English Test (OET)
If you take the IELTS, which costs about ₦83,000, you must get an overall score of a minimum of 7, a minimum of 6.5 in the writing section, and a minimum of 7 in the reading, listening, and speaking sections.
If you would be taking the OET, which costs about ₦150,000, then you must score a minimum of grade C+ in the writing section and a minimum of grade B in the listening, speaking, and reading passages.
Register With the NMC
Before you can work in the UK as a nurse, you must open an account with the Nursing and Midwifery Council (NMC).
It is advisable to go through the registration guidelines before you go ahead to register on the website.
You will be informed of all you need as you proceed. Once you get the checklist, begin your application.
Note that you should register as an "Adult Nurse" if you are a Registered Nurse.
You can also select Children, Mental Health, or Learning Disabilities if you are a specialist in the area.
Pay the Evaluation Fee
After you have provided your information, you must pay the evaluation fee, which costs £140.
Verify Your Details With the NMCN
Verifying your nursing qualifications with the Nursing and Midwifery Council of Nigeria would be best.
The documents required include the following:
Photocopies of certificates of registration.
Photocopy of the current license.
Photocopy of birth certificate or declaration of age if the birth certificate is unavailable.
Receipt of payment of ₦17,500 to NMCN through REMITA
Application stating purpose and destination of verification.
Completed verification form.
After paying the fee through Remita, submit your payment receipt and other documents and wait for them to be verified.
The verification usually takes some weeks or months, depending on the circumstances.
Note that you must write a letter requesting good standing from the NMCN.
This letter must be adequately addressed to the NMCN, contain your CRM number, which can be found on the top left corner of the mail you received from the NMC after you paid the evaluation fee and include your full name and purpose of writing.
Take the CBT Exam
Once your verification is complete, you can take the computer-based test through Pearson Vue.
The exam costs £83 and comprises 120 multiple choice questions, the general nursing theory that applies to the UK, which includes children nursing, adult nursing, mental health, leadership, communication, ethics of the nursing profession, etc.
This exam can be taken in Nigeria, and you can take it up to three times; the application window will be closed.
Your result will be out within two (2) days, and it is valid for two (2) years.
Bear in mind that if you don't pass this exam after three attempts, you can reapply to the NMC after a minimum period of six (6) months, and you must pay your fees fully again.
Upload Your Documents on the NMC Website
You must also upload your documents on the NMC website, which includes your language proficiency test result, police clearance certificate, nursing certificate or notification (if you don't have the certificate yet), and the details of a medical regulator, i.e., a medical doctor.
Pay the NMC Registration Fee
After uploading the relevant documents, pay the registration fee, which costs £153.
Once paid, you can get the health declaration via mail from your medical regulator.
Be sure to have informed this person before you send a mail.
You can track your application through the NMC portal and monitor your progress.
Apply for a Nursing Job
You can now apply for a job to begin working in the UK.
After applying, you'd be scheduled for a virtual interview, and if you are successful, you would be given an employment letter.
This letter contains your job description, salary, terms, and conditions of employment, and additional benefits, among other relevant information.
Be sure to go through this letter correctly, consider factors peculiar to you, and ask questions before you sign it.
Note that once you sign it, it becomes binding on you and your employer.
Get Your UK Work Visa
Apply for your visa and submit the relevant documents.
The documents needed for your visa application include the following, among others:
Passport photographs
International passport
The tuberculosis test result is valid six (6) months before arriving in the UK.
Police clearance certificate.

It costs about ₦15,000, and it is valid for three months.

Certificate of Sponsorship (CoS).

Your employer may cover the expenses of this. If you are going to the UK with your dependents, inform your employer about this so your CoS can protect them.

Visa fee receipt
Take the OSCE Exam
Once you arrive in the UK, you must take the Objective Structured Clinical Examination( OSCE), and your employer will register you for this exam.
You would attend various training sessions which would help you pass the exam.
If successful, you will officially become a Registered Nurse (Band 5 nurse) in the UK and receive your NMC Personal Identification Number (PIN).
Finding a UK Nursing Job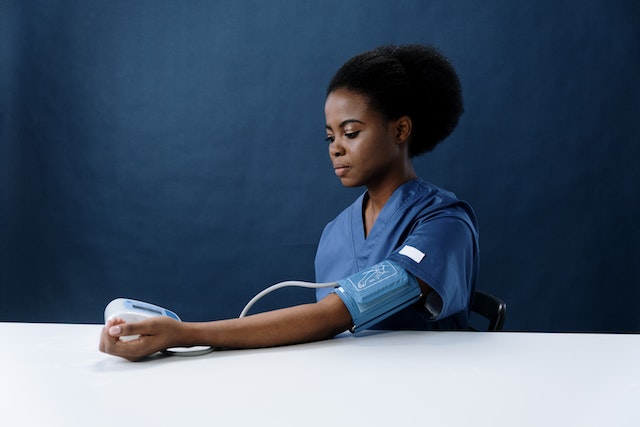 Seeking a UK nursing job may be a daunting task as it may take your time, money and energy.
However, you may reduce the stress by seeking help.
You can get a nursing job in the UK by the following ways:
UK Job Websites
You can search for great nursing jobs via job websites.
You can search for jobs to your specification, location, hourly rates, salary ranges etc.
You also get to view the job description, employer details, etc.
Some of the top websites for nursing jobs include:
Private Hospitals or Care Homes
If you don't want to work with the NHS, you can work in a private hospital in the UK.
You can contact them via their websites or send emails.
Some private hospitals or care homes may pay more than NHS.
It is best to choose what would benefit you in the long run.
Building a Nursing CV
One thing that can increase your chances of getting a nursing job faster is a good CV.
It would be best if you created a well-written CV that would impress your employers when read.
If you don't know how to go about it, you can use CV builders online to help you create one.
For instance, Nurses.co.uk has a CV builder that can help you.
Conclusion
Wanting to work as a nurse in the UK is good because you have many benefits.
It is because the UK needs more nurses to work every year.
However, the process involved in applying to the NMC, securing a job, migrating, etc., may seem daunting.
But it would help if you didn't worry about this, as we have shown you all you need to know to make the process easier.
All you need to do is follow the religious guidelines for a hitch-free experience.
Let me know if you have any questions or need further clarification. I would love to assist you.
You can watch my videos on the Studentship YouTube Channel by clicking here.
Join my Facebook Group or Like my Facebook Page for more interactive discussions.