This is to inform all the students of the University of Nigeria, Nsukka and Enugu Campus that the Portal for 2020/2021 hostel accommodation will be opened on Tuesday, 27 July 2021 by 10 am for first year students.
The opening of the UNN hostel accommodation portal for all first year students and sandwich students (all years) will be on Tuesday, 27 July 2021 at 10 am and will run until it finishes.
Subsequently, the UNN hostel accommodation portal for other years will be on Monday, 2 August 2021 by 10 am.
The hostel fees for Okeke Hostel (fully renovated) are twenty-five thousand naira only (N25,000) while other hostels remain the same as in the previous sessions, that is twelve thousand naira only (N12,000.00) for male hostels and fifteen thousand naira only (N15,000) for female hostels.
UNEC Hostel Portal
We have the following schedule for the opening of the University Portal for Hostel Allocation in UNEC.
The opening of the hostel accommodation portal for first year students will be Friday, 30th July 2021 at 10:00 am and will run until it finishes.
For other years (second to final years, including cross over students from Nsukka, the portal for hostel accommodation will be on Tuesday, 3rd August 2021 at 10:00 am.
How to Get UNN Hostel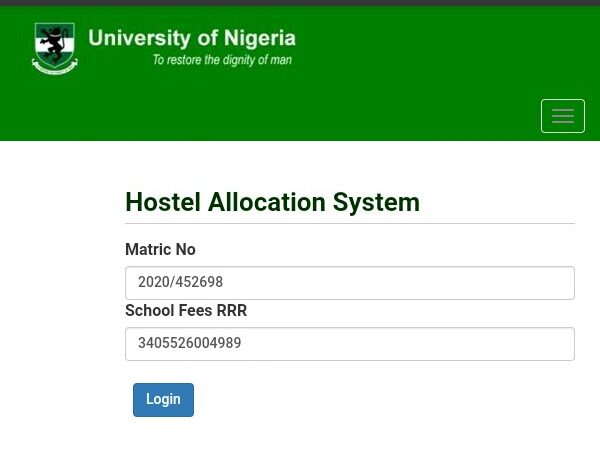 Here are the procedures to get UNN hostel accommodation;
Visit the UNN Hostel Portal
Enter your JAMB or Matriculation number
Enter your school fees payment RRR number
Click on Log in
Select hostel name
Click on available room numbers
Generate invoice for UNN hostel
UNN Hostel Fees
Here is how much UNN hostel fees are;
Male Hostel – N12,000
Female Hostel – N15,000
Okeke Hostel – N25,000
Hostel Levy = N2,000
Almanac = N600
Environmental Levy = N2,500
UNN Hostel Quota
First Year = 40%
Final Year = 20%
Other Years = 25%
PG Students = 5%
Friends of the University = 5%
Staff Kids = 5%
UNN Hostel Clearance
Furthermore, as part of signing in requirements into the allocated halls of residence, every student must provide the following;
Two (2) sets of bed sheets
Pillow covers
One (1) mackintosh of good quality.
Finally, at each point in time, correct information regarding hostel matters is accessible from the Students' Affairs Department.
Once again, we welcome all our new and returning students to the lion's den. Your overall welfare remains our concern.
Best Regards,
Professor Edwin Omeje
Dean of Students
CC: Associate Dean, Student Affairs, Nsukka Campus
PAR, Student Affairs Department, UNN
---
See also