There are many scholarship opportunities for Secondary School students in Nigeria. These scholarship grants cover school fees, laptops and other miscellaneous expenses.
A scholarship for secondary school students is a bursary grant awarded to students to support their academics. Students get these bursaries from the government, NGO and private organizations in Nigeria.
There are different kinds of scholarship opportunities available to students in secondary school in Nigeria all year round. This post will focus on indigenous scholarships for Nigerians.
To get a scholarship, you must know how to apply for these opportunities. It is why you will find this post helpful.
In this post, I will highlight the scholarship opportunities in Nigeria for junior and senior secondary school students.
I would love to hear from you. Let me know in the comment section if you need further assistance.
Good luck with your scholarship application.
Types of Secondary School Scholarship in Nigeria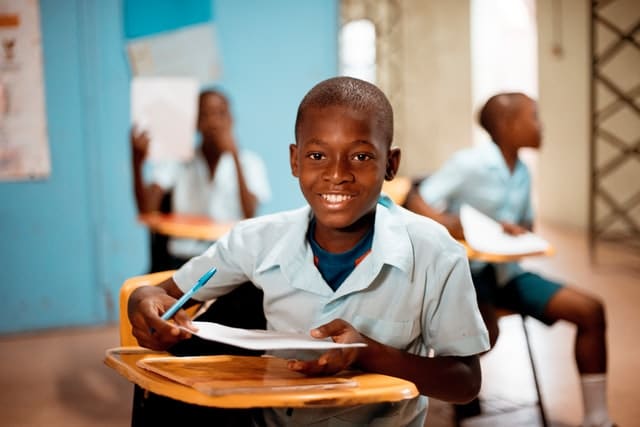 There are four (4) kinds of scholarships awarded to secondary school students in Nigeria;
Government Scholarship
Private Organization Scholarship
NGO Scholarship
Community Scholarship
Private Scholarship
Government Scholarship
Government scholarships are bursary awards by the Nigerian Federal and State government. It is for junior and senior secondary school students.
For example, the Zamfara State Bursary is a kind of government scholarship.
With the Federal Government of Nigeria, every state offers bursaries for their students.
Private Organization Scholarship
Private companies in Nigeria offer scholarship awards for secondary school students.
They are the most common scholarship opportunities for junior and senior secondary school students in Nigeria.
The Shell secondary scholarship scheme is an example of a private organization scholarship.
NGO Scholarship
NGO scholarships are bursaries by a non-governmental organization in Nigeria.
They aim to sponsor students through their primary and secondary education.
Community Scholarship
Community scholarships are bursary opportunities by different communities.
It is when individuals from a community pool resources together to sponsor students.
You can get this scholarship by receiving updates from your parents about scholarship opportunities in your community.
Private Scholarship
Private scholarships are bursaries provided by politicians, business moguls, etc.
These people have a passion to support students in school.
Scholarships for Secondary School Students in Nigeria
Here is the list of scholarship opportunities in Nigeria for junior and senior secondary school students;
Shell Secondary School Scholarship
UBA National Essay Competition
Midwestern Oil & Gas JV Scholarship
​​NLNG Post Primary Scholarship
Oando Foundation Scholarship
Malala Fund
Bishop Mike Okonkwo Essay Competition
MTN Spelling Bee Competition
Cowbellpedia Mathematics Competition
ME Egbadon Foundation Bursary
Mike Okonkwo National Essay Competition
Shell Secondary School Scholarship
The Shell Nigeria Secondary School Scholarship Scheme is for host communities in Abia, Akwa Ibom, Bayelsa, Delta, Edo, Imo and Rivers states.
Every year, an average of 2,600 post-primary scholarships are awarded in the seven states. The Secondary School Scholarship Scheme is to help students pay through school, as well as enhance academic achievement in host communities.
The scheme, which is also a welcome relief for many parents and guardians in the education of their children, has become so popular that annually, thousands of parents and children look forward to it as a golden opportunity.
Indeed, it has today become a welcome feature of educational development, especially in the Niger Delta area of Nigeria.
UBA National Essay Competition
The National Essay Competition is targeted at senior secondary students in Nigeria is organized annually, as part of the UBA Foundation's education initiative which is aimed at promoting the reading culture and encouraging healthy and intellectual competition amongst secondary school students in Nigeria and across Africa.
Criteria and Eligibility
Be a Secondary School Student
Must submit a handwritten essay (750 words MAX)
Must submit a passport photograph
Must submit a copy of a birth certificate, National ID or passport
How to Apply
Applicant must submit their completed contact information (Name, Age, School, Address of school, Telephone Number, Residential Address and Email Address).
Applicants must attach photocopies of their original birth certificates or international passport data page.
Midwestern Oil & Gas JV Scholarship
Midwestern Oil and Gas Company Limited, operator of the Umusadege Field in OML 56, Delta State and its JV Partner SunTrust Oil Company Nigeria Limited has since commencing production embarked on various schemes that deliver enduring progress to the indigenes of its host communities and Delta State in general by constantly investing in human capital to ensure economic development.
Requirements
Open to JSS I & JSS 2 Students only
Admission letter to Secondary School in Nigeria
Result in the last year in Primary School or JSS 1 result.
Birth Certificate
Identification letter signed by Ward Counsellor or CACC (Community Accredited Contact-men Committee)
​​NLNG Post Primary Scholarship
The scheme aims at supporting high performing basic six pupils in the company's host communities and the oil-producing states of Nigeria to access post-primary education uninterruptedly.
The scheme kicked off in 2012 with 28 beneficiaries and has grown to a total of 172 beneficiaries by 2015.
Prospective pupils are admitted onto the scheme based on an excellent performance at the annual National Examinations Council's (NECO) Common Entrance Examinations.
Oando Foundation Scholarship
The Oando Scholars Programme annually awards scholarships to the three best performing final year students from each adopted school to ease their transition to secondary school.
The award covers tuition where applicable and other expenses which include transportation, study materials and uniforms.
The programme supports children who have excelled in their academics to transit to Secondary School whilst building a culture of excellence among children in Oando adopted schools.
Scholars are identified by the Foundation in partnership with the SUBEB, school heads, representatives of SBMCs, and Local Government Education Authorities.
They are selected based on an aggregate of their primary five (5) and primary six (6) results (continuous assessment & exam) and the State- level Secondary school placement examinations.
Awardees must maintain an annual average performance of 70% in all subjects to remain in the scheme. The Foundation has awarded 1,102 scholarships to date.
Mike Okonkwo National Essay Competition
Eligible Countries: Nigeria
Type: Essay
Value of Award
1st Position
₦100,000 + Laptop (Student)
3 sets of PC (School).
2nd Position
₦75,000 (Student)
2 sets of PC (School).
3rd Position
₦50,000 (Student)
A set of PC (School).
Eligibility
Applicants must be Nigerians
Applicants must be Secondary School Students
Entry Requirements
Maximum of 2000 words
Name of student, class, e-mail, contact phone number and his/her recent passport photograph
Name of school and detailed address (including Name of Principal and phone number)
The essay should be clearly typed
Application Process
Interested and qualified applicants should send their entries to: [email protected]
Or
The Redeemed Evangelical Mission (TREM),
International Headquarters,
Obanikoro/ Anthony-Oke Bus Stop,
Lagos State.
Note: Essay should be original; avoid plagiarism.
---
Let me know if you have any questions or need further clarification. I would love to assist you.
You can watch my videos on the Studentship YouTube Channel by clicking here.
Join my Facebook Group, Like my Facebook Page or Follow Me on WhatsApp for more interactive discussions.